Backup your home during power outages with DELTA Max. With an expandable capacity that reaches up to 6kWh, dual charging, and the ability to power your home devices, you can stay powered on in any situation.

Expandable Capacity
Dual Charging

800W max Solar Input
Power 99% of your home devices.
With EcoFlow's X-Boost technology, DELTA Max can power heavy-duty devices up to 3000W. That means during a power outage or blackout, you can continue to power your fridge, dryer, and more. That's the industry gold standard for a portable power station of this size and capacity.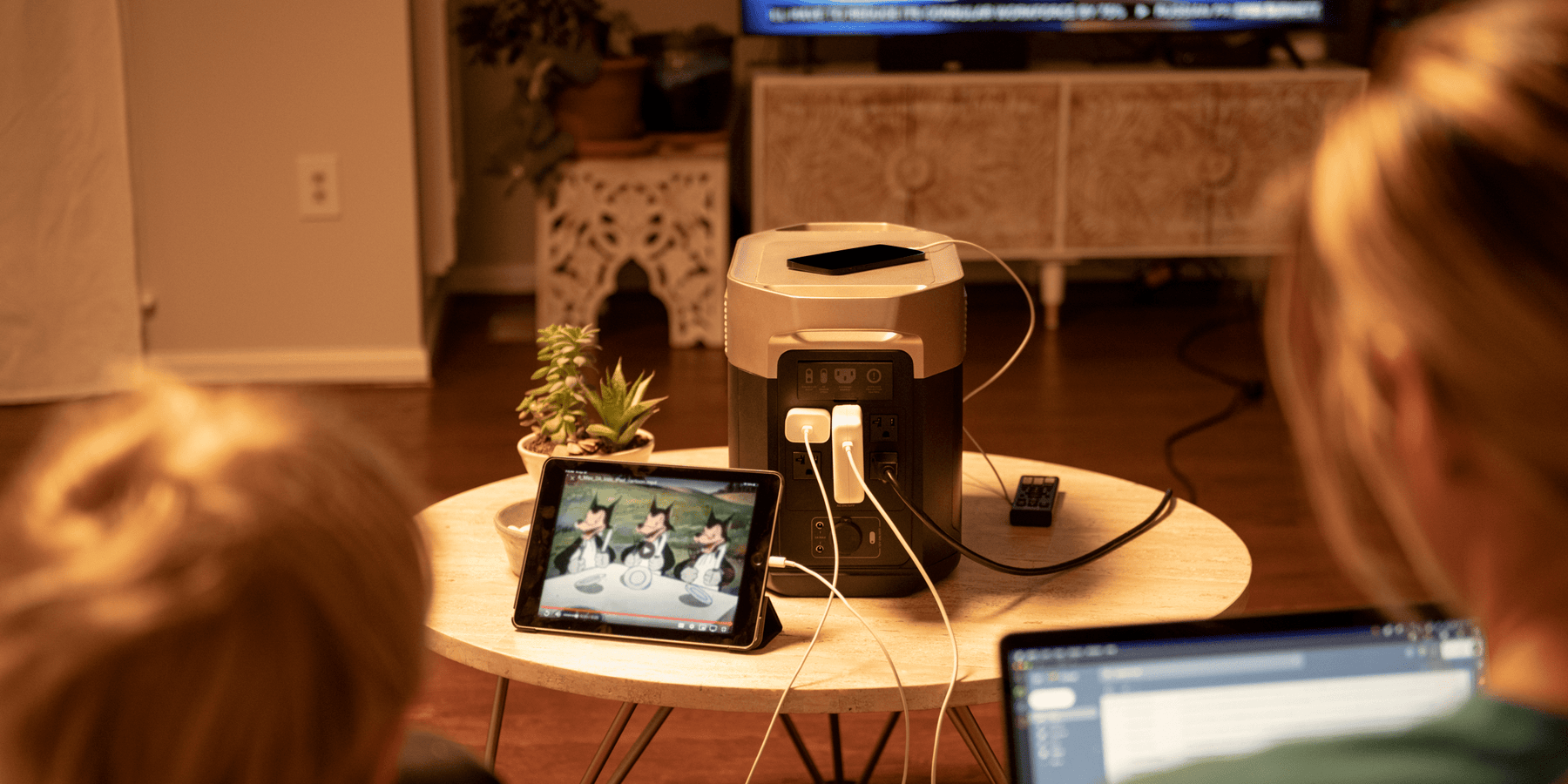 Harness the power of the sun.
DELTA Max connects with up to 2x 220W EcoFlow solar panels to deliver fast solar charging speeds. With a voltage range from 11-100V and the solar connector, you can also connect other solar panels to your DELTA Max. Even during cold or cloudy days, our smart maximum power point tracking (MPPT) algorithm automatically detects voltage and current in real time to give you optimum solar generation throughout the day.
Control, monitor, and manage your energy use.
Control and monitor your DELTA Max with the EcoFlow app. Dive into the settings to customize your power use or control DELTA Max remotely.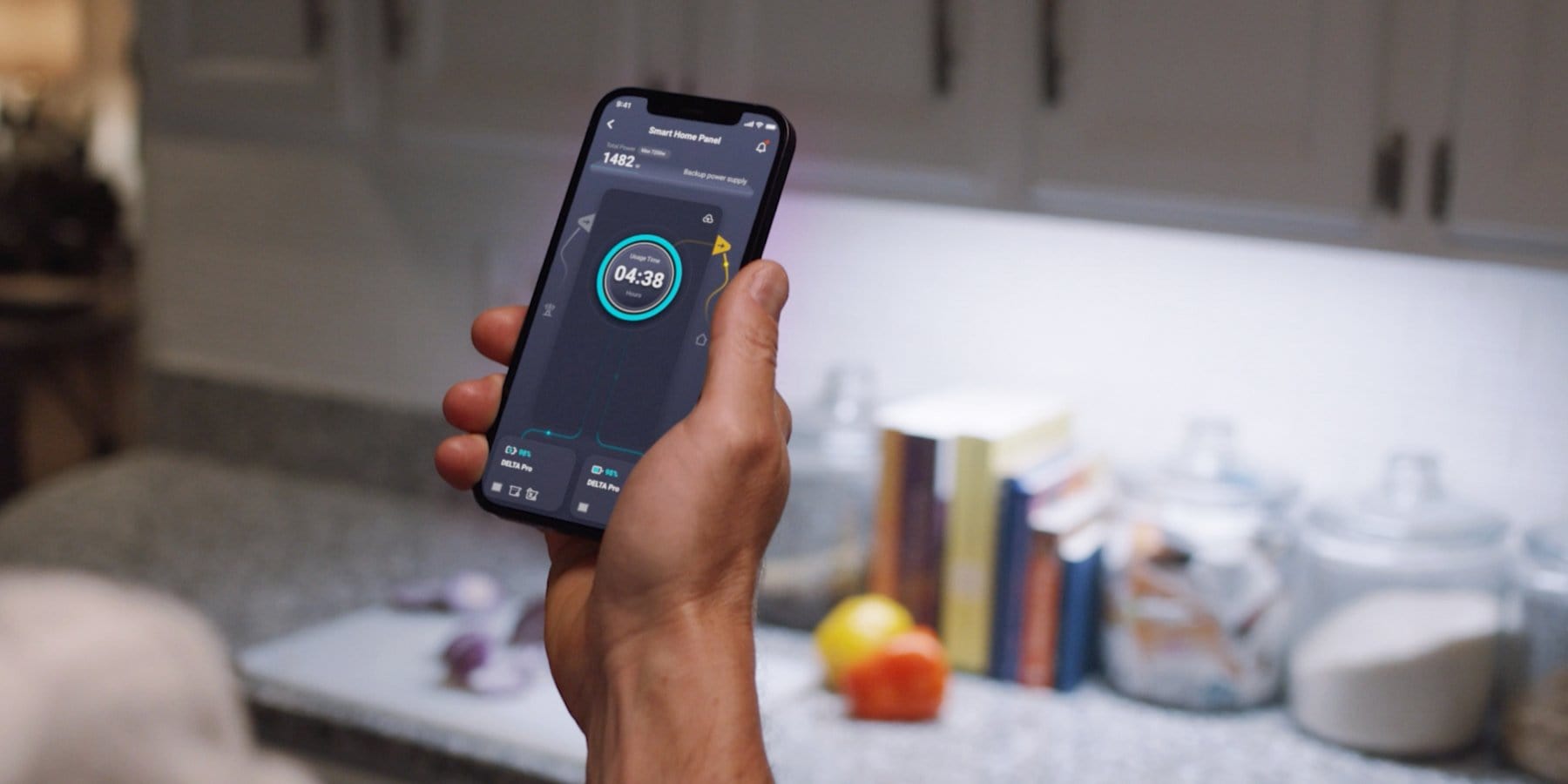 What's in the bundle - DELTA Max
1.  DELTA Max  2. AC Charging Cable  3.Car Charging Cable   4.DC5521 to DC5525   5.User Manual
Frequently Asked Questions
Specs of DELTA Max (2000)
Net Weight

Approx. 48 lbs (22 kg)

Dimension

19.6 x 9.5 x 12 in (49.7 x 24.2 x 30.5 cm)

Charge Temperature

32 to 113°F (0 to 45°C)

Discharge Temperature

-4 to 113°F (-20 to 45°C)

Warranty

24 months

Charge Method

AC Wall Outlet, 12V Car Adaptor, Solar Panel, Smart Generator, Smart Extra Battery

Full Recharge Time

1.6 Hours (AC) 21 Hours (12V Car Charger) 5.6-11.2 Hours (Using 4x 110W Solar Panels) 4.2-8.4 Hours (Using 4x 160W Solar Panels) 3.2-6.3 Hours (Using 2x 400W Solar Panels)

Capacity

2016Wh

Cell Chemistry

NCM

Cycle life

800 cycles to 80%+ capacity

Management Systems

BMS, Over Voltage Protection, Overload Protection, Over Temperature Protection, Short Circuit Protection, Low Temperature Protection, Low Voltage Protection, Overcurrent Protection

Testing and Certification

CE WEEE CTP RCM KC

AC Charge Input (Power)

X-Stream charge (2000W max)

AC Charge Input (Voltage and Amperage)

220-240V~50Hz/60Hz, 10A

Solar Charge Input

11-100V 13A Max, 800W max

Car Charge Input

Supports 12V/24V Battery, Default 8A

AC Output (x4)

Pure Sine Wave, 2400W total (surge 4600W), 230V~ (50Hz/60Hz)

Max Device(s) Power Supported by X-Boost

3000W

USB-A Output (x2)

5V 2.4A, 12W max, per port

USB-A Fast Charge (x2)

5V/2.4A, 9V/2A, 12V/1.5A, 18W Max

USB-C Output (x2)

5/9/12/15/20V 5A, 100W max

Car Charger Output (x1)

12.6V/10A, 126W max

DC5521 Output (x2)

12.6V/3A, per port

Smart Extra Battery

Supports up to 2 DELTA Max Smart Extra Batteries (sold separately)

Smart Generator

Supported (sold separately)

Wi-Fi

Supported
Specs of 400W Solar Panel
Rated Power

400W

Cell Type

Monocrystalline silicon

Efficiency

22.60%

Dimensions

41.7*93.1*0.98 in (105.8*236.5*2.5cm)

Open Circuit Voltage

48V (Vmp 41V)

Short Circuit Current

11A (Imp 9.8A)

Weight (Solar Panel)

Approx. 16 kg

Weight (with Kickstand Case)

Approx. 19 kg