World's first 3-in-1 portable fridge, freezer, and ice maker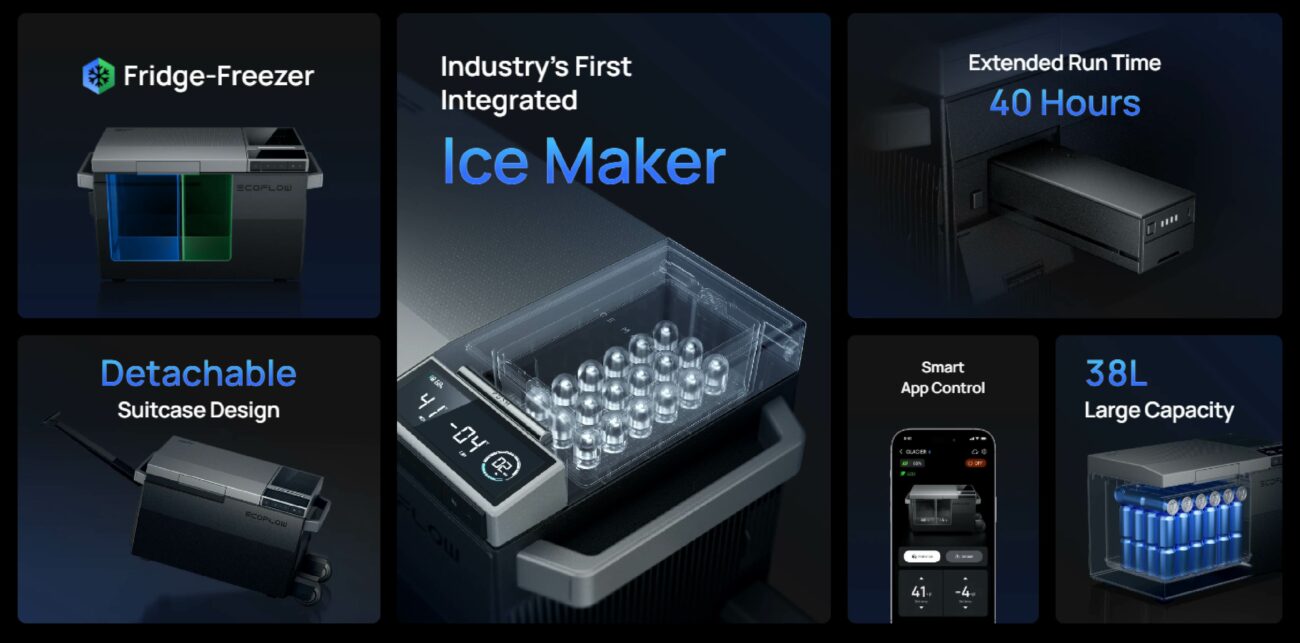 "The Best Portable Appliance"
By Popular Mechanics
Industry's first integrated ice maker.
Equipped with a powerful 120W compressor, it brings you 18 solid ice cubes in 12 minutes.[1] For all the spine-tingling moments along your journey, spice them up with chilled sodas.
Dual zone, dual control.
A fridge-freezer at its best.
Equipped with a 
removable divider separating it into two zones
, and independent temperature control, both sections can refrigerate and freeze from 50°F (10°C) to -13°F (-25°C). Steak, cheese, or soft drinks......whatever you want to stock up on, it shape-shifts to meet your needs. 
The fastest cooling in the industry.
Cooling at the optimum speed when empty, GLACIER rapidly refrigerates from 86°F (30°C) to 32°F (0°C) in around 15 minutes.
Cooling for up to 40 hours wire-free.
Designed for absolute portability, GLACIER can be powered by the Plug-in Battery[2] and free from messy, limiting cables.
GLACIER's accessories (Plug-in Battery and Detachable Wheels and Lever) are sold separately.
With a large battery capacity of 298Wh, savor up to 40 hours[3] of easy access to frozen meals, fresh fruit, and ice-cold beverages.

Charge laptops and more on the go. With 100W max USB-C charging, it even powers up your phones and laptops so you'll never lose touch with your loved ones.

Wheeling like a suitcase.
One lever and one set of wheels, all detachable. Wheel the fridge-freezer to wherever your adventures take you. Detach these accessories and fit GLACIER right on your RV's countertop, in the passenger seat, and in other compact spaces.
Remote control via Wi-Fi & Bluetooth.
Nothing's cooler than going green.
We're all about guarding both the green planet and your user experience.
GLACIER sports vacuum insulation panels (VIPs). With a low thermal conductivity, these panels help optimize energy efficiency, reducing energy consumption, carbon footprint, and the environmental impact of refrigerant production and disposal.
Under Eco mode—the energy-saving mode—GLACIER uses only 0.18kWh per day[5].
Fully charged by solar energy[6] (up to 240W) in as fast as 2.1 hr.
Fully charged by AC in 2.2 hr.
Fully charged by
DC (12V) in 4 hr
DC (24V) in 2.1 hr.
Part of an ever-growing ecosystem.
GLACIER is just the start. Pair with an EcoFlow DELTA Pro or the extra batteries and get an astonishing 16-day runtime in Eco Mode.[7] You can also use any portable power station with a 60W input to charge your GLACIER.